Fun Fun Stuff!
I finally got around to taking pics of the Ariel sweater I'm making for my daughter, Callie. I was watching Dr. Phil or something when I was making her shoulder and I lost track of where i was so... she looks kinda like quasimodo right now. I still have to embroider on her eyes and mouth and all the other details but you still get the idea. The only reason that it's not a FO is because I ran out of the blue yarn and have to wait until I can get back to the particular craft store that has that color of blue.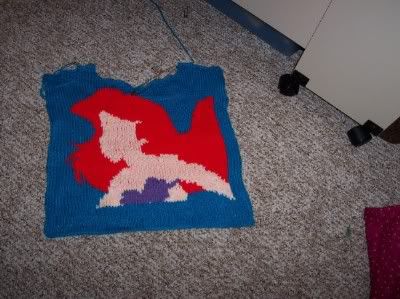 I got this yarn at my LYS to make a handbag. But... I might use the Lamb's Pride stuff I had gotten earlier and use the Cascade 220 (below) for a laptop bag instead since I heard at knittyboard.com that Cascade tends to shrink more in length than width (actually... someone said that it almost doesn't shrink at all width wise. This would be awesome because I have a widescreen laptop so it's a little bit wider and I want to make sure that it would fit in the bag I made... or I would cry.)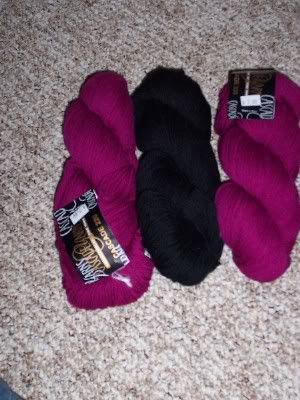 Now this is a cool gift I got from my brother for Christmas. It's a fabric knitting kit and it says that it only takes 4 hours to complete! whoo hoo!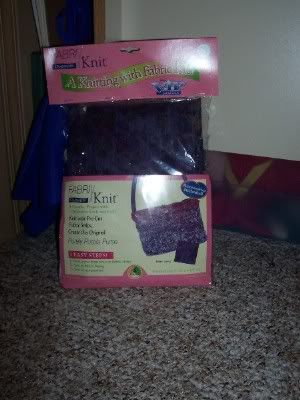 This has nothing to do with knitting but my sweet sweet boyfriend painted this for me for our anniversary (I made him a sweater... yes yes I know... I'm willing to risk the curse!) The big rose in the middle is me and there are two rose buds below it and they are Callie and Taylor, and they haven't bloomed yet. I bawled when I opened it!!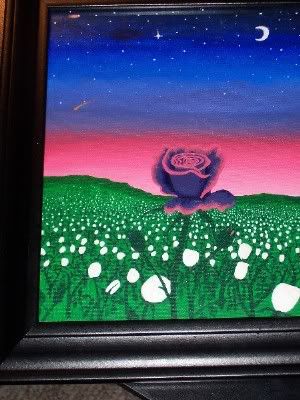 I haven't been doing too much knitting lately. I've been working and then my friends haven't left me alone a single night this week.
Oh... I ended up frogging the front of the Belle sweater because I wanted to have the darker yellow next to her skin. THere wans't much distinction between the pale yellow and the peach yarn. Maybe I'll knit up that cute little bag tonight... just so I feel accomplished!!!