Ra ra ra!
Another FO!!! This is the laptop bag from SnB Nation using Brown Sheep Lamb's Pride. I used the general pattern adding a few stitches because my laptop is a widescreen. I plan on felting it either later tonight or tomorrow (other laundry comes first ya know!)
I also got some new yarn. The first is Aristocrat Heirloom that I picked up at my LYS when they were having a 25% off sale. I think I might make Knitty.com's Voodoo, but I haven't touched the gauge or anything.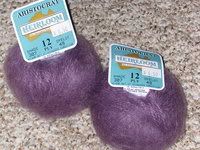 Lastly... I picked up 10 skeins of Lion Brand's Imagine from ebay. All 10 for 12.50!!!! Great deal! If gauge works out (and I have enough), I'll be making Knitty.com's Belle Epoque, a sweater I've been just DIEING to make since I saw the pattern!!!