Kinda starting to pack....
I decided to post some pics of stuff today instead of writing a whole bunch. I also cast on a new project!!!!!
This is Wavy blocking: (Notice two little legs on the balance beam! Taylor was practicing...)
I stopped into the LYS while cal and tay were at gymnastics and it has doubled in size!! They are renting the attic of an old school turned into a cute craft "mall" and they must have bought the place next door so now they have the ENTIRE attic. It's so cute up there. The space was just empty but it just seems so much brighter up there. I bought a plasitc crochet hook for these many stitches I seem to keep dropping and two more balls of purple yarn -Aristocrat heirloom. It's been on sale since forever and have picked up a ball here and there so now I have five - four purple and one pink. I think they would make good pink and purple mittens.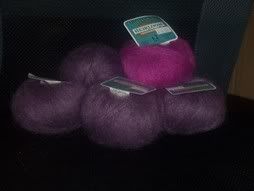 Callie and taylor got a balance beam for their birthday from Jake. He built it himself. Here they are standing on it but you can't see it. (Trust me... it's there!) Taylor has the scrunched up face.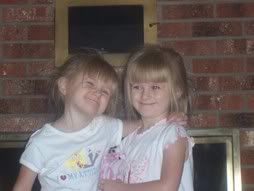 This is my favorite picture of my lil squirrels. I'm not sure if I posted it yet or not but they are so cute, who cares!? Taylor is in white, Callie in red. Notice Lizzie McGuire is on tv!!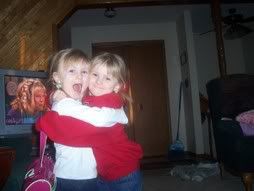 Here are some pics from today. Callie wanted to have her picture taken with mommy's knitting and since i wanted a picture of this yarn anyway... This is some fushia LB Homespun that I got at Joann last week on sale for 3.75 ea. They are going to make up a new One button cardigan (cover of Knit.1). I ruined the old one. Turns out when the label says not to iron a yarn... they mean it!!!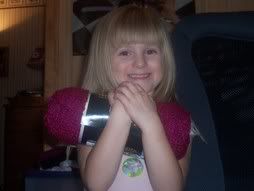 Here's a pic of the knitting I did on it today. It is the official cast on photo. It took me forever and a day to find gauge.. I guess I'm not that good at using a tape measure 20 minutes after waking up beause I used 4 different needle sizes only to use the first one I tried after all. The color is so so so so pretty. It's got little splashes of purple in it and I can't wait to wear it around. Everyone will be so so jealous!!!!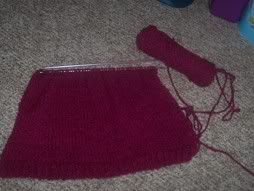 Last but not least, Callie and Taylor came home from Grammies with an early birthday present: Ruby Red slippers! I wanted a full shot of Taylor with her full get-up on but she ran away before I could get another picuter. She didn't take those darn shoes off all day. She even took a nap in them! Callie says her toe hurts so she didn't want to wear hers. :)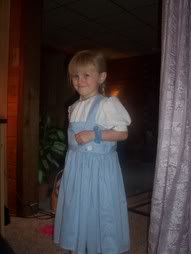 I talked to Callie and Tay tonight at Pizza Hut and they said it would be ok if I didn't finish those princess sweaters for them, as long as I made them something else really cool. Since they just saw March of the Penguins with grandma Bonnie, I thought I'd make them each a Pasha the penguin (knitty.com)!!!!