Wavy pics...
I'm in a picture taking mood lately... Anything I guess to keep from having to pack!!!! Last night I noticed that my eldest child, Ahna (actually a kitty... five years old) was checking out momma's knitting.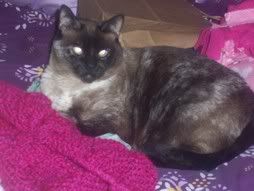 She is your stereotypical cat with knitter. I usually let her bat at the yarn (she's chubby... so any exercise she's willing to do is fine by me!) and usually end up with yarn covered in cat slobber. Oh well. A lot of the times she'll lay right on my lap and I'll have to knit around her. Twenty pounds of stubborn cat with a "You pay too much attn to your knitting and not enough to me" attitude is hard to move. Plus I love her!! I hope I can get a picture of her "knitting" with me one day. It'll be frameworthy!
Anyway... So here's another pic of Ahna. She's modeling Wavy.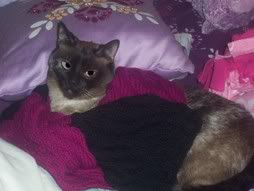 Then today I figured I should get some human shots with Wavy so here ya go! It is knit up with some leftover Cascade 220 from a felting project and that's why it has black ends. I love it! I was really nervous about it when I was knitting it but after blocking it turned out perfect. Though it was a pain in the pooper to get the little waves to line up right after blocking it.
This is me and my (youngest human) daughter, Taylor: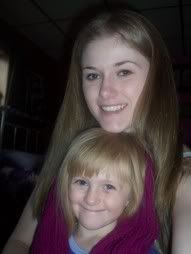 And this is Tay solo: