Temptations and Magazine Reviews
I really really really really want to buy yarn. Never mind the fact that I don't get paid til next week (and I have bills to pay...)! I went to Barnes & Noble today and picked up two magazines: Knit Simple (new magazine by VK... website isn't finished yet) and a British mag, Simply Knitting.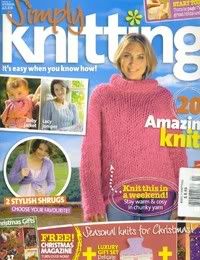 Inside this mag is the CUTEST SWEATER EVER!!!!!!!!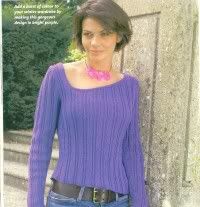 It's called Angled Poise by Debbie Bliss and is a ribbed sweater with an assymetric neckline and bottom. I am thinking about knitting it up in Knitpicks Merino style... probably some sort of pink. Of course... I won't be buying the yarn til January!!! ...damn resolutions...
I haven't been doing much knitting today. For some reason the idea of a new sweater took all my attn and I also scoured the net for the best price for Rowan Kidsilk Haze because I want to do this sweater by Jenna Adorno as well: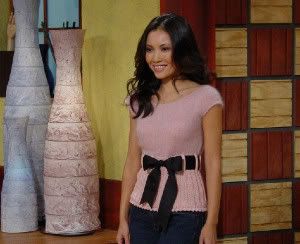 I already have some Lamb's pride worsted in lotus pink (a hot pink color) and was trying to find some kidsilk haze for the mohair part on top to match but it's so hard on the puter so... I'm going to have to drive a little further out of my way to try some yarn shops in the Minneapolis/St. Paul area OR order online and hope for the best.
While at yarnmarket.com, I found this very very beautiful top knitted up in the kidsilk haze:
It is so so so so so so gorgeous. It is found in Rowan Magazine #37. Oooof.... I really want to put in an order at
angel yarns
for the yarn and magazine so incredibly bad!!!! Even with shipping from the UK and the currency change it ends up being cheaper from there (vs.
Yarnmarket
)
I suppose I never properly reviewed either magazine that I talked about up there. I'll do my best:
Knit Simple (Vogue Knitting) Winter 2005
It's target audience is beginning knitters and advanced knitters who want something simple to knit up quickly. The designs are basic but not cheesy or Lion-Brand-esque. There are two sweaters that jumped out at me (I'd scan them but my roomie is really really busy right now and she has the scanner). One has a couple of granny squares in the front and down the sleeve and the other has a leaf like lace pattern on the bottom of the sweater and sleeves (I saw someone just post a pic of a similar sweater that they designed themselves. I liked the sweater that she made better than the one in this magazine though. I hope I'm able to find her blog again when/if she's able to post the pattern!). The designs in this mag are not too terribly trendy but anyone of all age ranges should be able to find something.
They are kind of lacking in articles, I believe there was only one...but being this is their premiere issue it should (hopefully) get better.
They must be planning on making this mag a permanent member of the VK family as there are subscription options already available.
All in all, I would buy the next issue, but after flipping through it a time or two beforehand.
Simply Knitting Issue 8 (November)

(Issue 9 has already come out in the UK... we must be behind the times by a month)
This mag rocks! It's a little more expensive (8.99 USD), but the pages are larger. There is lots of color on every page (but not so much it looks like paper vomit). This happens to be one of those magazines that lists the patterns for the project on the same page (vs. having to flip to the back ... get what I mean?), which makes it really easy, at least for me. It's a little short on patterns (12-15 or so) but the patterns that they do have are of good quality. Another thing about the patterns that I just adored was that they take one technique out of the pattern (make one stich, changing colors) and explain out to do it in the side bar (in full color photos... NOT drawings!). I thought this was awesome because it explained how to knit with beads for one of their patterns and it just so happens that the waverly cardigan has a beaded trim!! Not too shabby eh?
At the very end you know how all those mags have the "how to knit and crochet" bit and it's like ... a half a page? Well, this mag has ELEVEN of them. Let me say that again... ELEVEN. All of that stuff I already know of course but this mag just went above and beyond (or maybe that's just how the Brits do it! I dunno!).
Additionally, this issue came with a Christmas Gifts Extra supplement. Patterns for a doiley some different ornaments, and the CUTEST little gnomes ever. Seriously... I want to knit one pretty badly! Iwill hopefully get a picture scanned tomorrow.
I love this mag so much I looked into the subscription costs of having it shipped to the US. It would be about $60 (for 13 issues) so about $4.60 per issue... versus the $7.99 I would pay at Barnes and Noble... it's tempting..... oh boy is it ever.... but $60 is a lot of money to put up front!
All in all... I will buy this mag again. I would like to buy at least one or two more issues before fully deciding that it is worth subscribing to (maybe this is the only issue that was ever good... this is only the 8th issue)